iMEDicare offer a NO OBLIGATION, FREE Home Assessment and Demonstration Service for Innovo! Just call us today on
01923 237795

 to arrange!

Urinary incontinence is a common problem that affects millions of people worldwide - as many as 1 in 4 women and 1 in 10 men. It can have a profoundly negative and distressing effect on many aspects of your life and can be very difficult to discuss, even with your clinician. To complicate matters, conventional treatments such as medications or surgery can have multiple adverse side-effects.

That's why Innovo has been developed, to provide an advanced, effective solution for stress, urge and mixed incontinence. With an easy-to-use controller and ergonomically designed garments, it offers a safe and effective, drug-free, home-based therapy that targets the cause, not just the symptoms, of your incontinence. Innovo will help you to rediscover life's vitality.

Innovo is a pioneering, clinically proven, incontinence therapy, designed to treat stress incontinence through externally delivered Multipath™ muscle stimulation, without the need for an internal probe. The device works by activating and exercising your pelvic floor muscles using stimulated contraction and relaxation cycles. Comfortable garments, worn around the upper thighs and buttocks, hold conductive electrodes in place and the portable, user-friendly unit allows you to increase and decrease the signal passing through these electrodes into the pelvic floor muscles, giving you full control over the strength of the stimulation.

Available for online purchase / instalment purchase now from iMEDicare! Now offering FREE DELIVERY.
The INNOVO Shorts Pack has everything you need to refresh your INNOVO experience and continue to benefit from a strong & healthy pelvic floor.
The pack includes INNOVO Shorts in your preferred size, a 250ml bottle of INNOVO Spray and a Quick Start Guide to assist you in getting the most from your INNOVO. This pack is compatible with the INNOVO controller. Simply connect the controller and cable to the Shorts to get started.
NOTE: The INNOVO Shorts Pack does NOT contain the INNOVO controller. Contains garment & spray only.
Use for just 30 mins p/day, five days p/week for up to 12 weeks for long-lasting results.
80% of users saw a significant reduction in leaks after just 4 weeks.
87% were defined as dry or almost dry after 12 weeks.
90% of users would recommend the therapy to others.
Suitable for women and men of all ages.
For more information on buying INNOVO by instalment - call iMEDicare on 01923237795.
INNOVO Shorts are unisex, so can be used by both women and men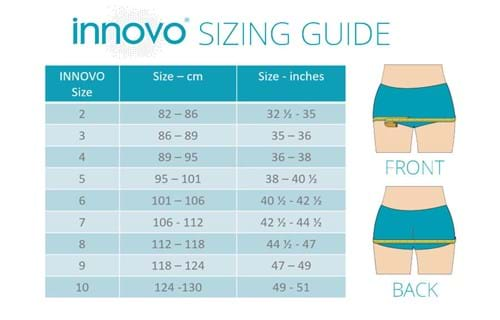 ***NOTE: If you're between sizes, it's advisable that you opt for the smaller size.***
Patient Brochures
Clinician Brochures