iMEDicare offer a NO OBLIGATION, FREE Home Assessment and Demonstration Service for Innovo! Just call us today on
01923 237795

 to arrange!

Urinary incontinence is a common problem that affects millions of people worldwide - as many as 1 in 4 women and 1 in 10 men. It can have a profoundly negative and distressing effect on many aspects of your life and can be very difficult to discuss, even with your clinician. To complicate matters, conventional treatments such as medications or surgery can have multiple adverse side-effects.

That's why Innovo has been developed, to provide an advanced, effective solution for stress, urge and mixed incontinence. With an easy-to-use controller and ergonomically designed garments, it offers a safe and effective, drug-free, home-based therapy that targets the cause, not just the symptoms, of your incontinence. Innovo will help you to rediscover life's vitality.

Innovo is a pioneering, clinically proven, incontinence therapy, designed to treat stress incontinence through externally delivered Multipath™ muscle stimulation, without the need for an internal probe. The device works by activating and exercising your pelvic floor muscles using stimulated contraction and relaxation cycles. Comfortable garments, worn around the upper thighs and buttocks, hold conductive electrodes in place and the portable, user-friendly unit allows you to increase and decrease the signal passing through these electrodes into the pelvic floor muscles, giving you full control over the strength of the stimulation.

Available for online purchase / instalment purchase now from iMEDicare! Now offering FREE DELIVERY.
Innovo - A Proven Therapy
A 2012 pilot study1 highlighted significant clinical improvement in subjects with stress incontinence that were treated with the Innovo therapy.

After 4 weeks of treatment:
+ 93% had a 'significant improvement' in the amount of urine leaked.
+ 60% of subjects were defined as 'dry' 2.

After 12 weeks of treatment:
+ 74% reduction in average involuntary urine loss over a 24 hour period.
+ 86% of subjects were defined as having 'dry' or 'mild' severity of symptoms3. 
 
After 26 weeks, 14 weeks after concluding treatment with the Innovo therapy:
+ Clinical improvements had been maintained .
+ Subjects reported significant improvement in their quality of life since beginning treatment with Innovo.

* Please note that you must be in a standing position to perform a Innovo treatment session correctly.  
1 Pre-publication data.
2 Based on change in pad weight during 1-hour stress test. 'Dry' defined as <2g of urine leaked, with 'significant improvement' defined as a 50% or greater reduction in symptoms.
3 Based on change in pad weight during 24-hour pad test, 'mild' defined as >2g but <10g of urine leaked.
First time buyers please note, you will need:
An 

Innovo 

Home Unit (available to buy outright,

 

or hire purchase)
A XS/S/M/L/XL garment kit (if suffering from Stress Incontinence, included with the Home Unit - please read our Garment Sizing Guide above before placing your order)
The Innovo complete unit can be either purchased outright for £298.80 (includes device and Garment Kit) now with FREE DELIVERY, or hire purchased from iMEDicare Ltd. on a per-monthly basis.
Note, if you opt for the hire purchase, and you decide to buy your device outright at some point in the future, any contributions already paid for hire purchase can be deducted from the total cost of the device, or you can simply continue with your Hire Purchase until all required payments are made (6 monthly payments of £41.50). Please contact us directly for more information.
For more information on buying INNOVO by instalment - call iMEDicare on 01923237795.
INNOVO Shorts are unisex, so can be used by both women and men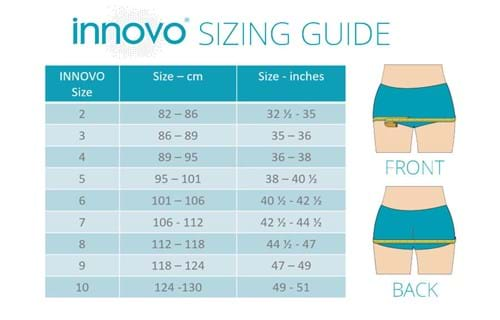 ***NOTE: If you're between sizes, it's advisable that you opt for the smaller size.***
Patient Brochures
Clinician Brochures