What is Peyronie's Disease?
Peyronie's disease (PD), a benign condition of uncertain cause, is characterized by the formation of fibrous tissue plaques often palpable as a hard lump, within the tunica albuginea on the penis usually causing a penile deformity and a subsequent degree of erectile dysfunction (41-55%)[1]. (First fully described by Francois Gigot de la Peyronie)[2]. A plaque on the top of the shaft (most common) causes the penis to bend upward; a plaque on the underside causes it to bend downward.

In some cases, the plaque develops on both top and bottom, leading to indentation and shortening of the penis. At times, pain, bending, and emotional distress prohibit sexual intercourse.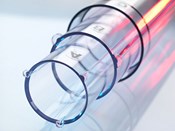 The incidence of Peyronie's disease is 3.2% [1] of whom about two thirds are aged 40-60 years. The common suspected causal factors include sexual trauma in those with a genetic predisposition to aberrant wound healing, or part of a generalised connective tissue, autoimmune or arterial disease. The initial theory of repeated minor sexual trauma is currently still the most likely cause. This is supported by the finding of ibrin within the plaques but not in control tunica, indicating microvascular injury [3]. Penile pain may be persistent in the inflammatory stage of the disease but is usually only present during erection. 
The pain is usually not severe but may interfere with sexual function, although spontaneous improvement usually occurs as the inflammation settles within 3-6 months[4]. After 18–24 months, plaque angulation and calcification tend to predominate. 
Spontaneous resolution of the condition is thought to occur in up to 15% of cases.
What is SOMACorrect and How Can it Help?
SOMACorrect Peyronie's Correction Therapy (Type 1 Medical Device, European Health Certification - CE) is the revolutionary NEW treatment regimen for men with the penile curvature associated with Peyronie's disease. Side-effect free, SOMATherapy-PD (Peyronie's Disease) was developed over a number of years by a Urological Consultant who has treated Erectile Dysfunction (ED) for more than 30 years.The treatment involves placing the penis in one of the 3 appropriate 'sized to fit (Stf)' adapted circumferential cylinders and using vacuum therapy pressure to forcibly induce a series of 'straight' erections over a 20 min. period daily... ....each day for up to 26 weeks, with the effect of gradually reducing the impact of the plaque area on the overall angle of curvature and improve penile health in general [5,6,7,8]. With additional UK based studies underway, early unpublished anecdotal reports, such as those by Dr. DiLoreto of the Michigan Institute of Urology, suggest significant response rates, in excess of 60% and up to 80%, are being achieved. Clinical Studies conducted by the Urology Department of Antwerp University Hospital found that for 75% of the patients, the angle of curvature had reduced by at least 50% after 6 months of regular vacuum therapy plaque stretching. For 58% the plaque had disappeared completely.[5]
Latest Research:
The latest clinical study, conducted at Norwich University Hospital (presented at the European Society of Sexual Medicine in Milan 2011) established that up that up to 80% of patients can experience an average curvature reduction of 47% of the initial presenting angle eg. an angle of 50 degrees could be reduced by as much as 24 degrees on average. Most patients will experience an improvement of over-all erectile function on other levels with regular therapeutic device application. Further studies underway at various UK centres including The Whittington University Hospital (London), Western General Hospital (Edinburgh) and Royal Hampshire Hospitals (Winchester).
One-piece manually operated device with Large, Medium and Standard cylinder sizing options. Lubricant, instruction DVD and guide-book (ED and Peyronies). Travel bag, one year warranty when purchased privately. 100% refund option within 90 days (minus £40 handling fee).
All patient types excluding extra-wide penile diameter. Including large to narrow penile diameter, poor manual dexterity, severe venous leak, peyronies disease and hypersensitivity to ring pressure.                
Variations:               
SOMAcorrect (Manual Version)
SOMAcorrect (Battery operated Version)
NHS Order code:
15111
PIP code:
317-5593
Patient Brochures
Clinician Brochures